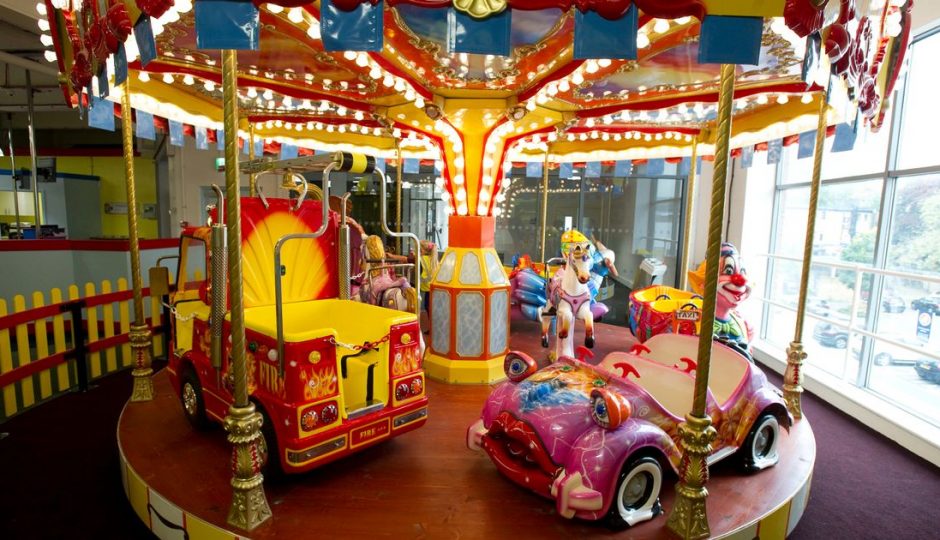 April 17, 2018
360 Play
360 Play family entertainment centre hits all the right notes with families in Farnborough…
Newly opened family entertainment centre is an instant success The new 360 Play family entertainment centre at The Meads Shopping Centre is proving a big hit with young families in Farnborough and further afield since it opened its doors in October. One of the UK's leading family play centre brands, 360 Play occupies a 20,000sq. ft. first floor unit at The Meads and follows the company's highly successful entertainment formula with a wide range of activities for all young children, from toddlers up to the age of 12.
All the activities included are designed so that adults can also join in and this proven mix has made an immediate impact on the people of Farnborough. "We have been overwhelmed with the brilliant feedback and response from our customers during the first month of opening 360 Play Farnborough," said centre manager Mitch Holmes. "The reception we have had welcoming us to the town has been great. We look forward to what the future holds at 360 Play Farnborough and would like thank both our existing and future customers for helping us to achieve such a fantastic start in the town for 360 Play."
The new centre features a host of attractions and activities, including a three-storey central play frame featuring elements such as a sports themed area, urban skateboard style area, ball showers, ball zones, slides and more, family bumper cars, a carousel and the 360 Street creative play zone incorporating individual play units such as a fire station, supermarket, pizza parlour, vets and pets, car garage/body shop and dressing up boutique. The new centre also incorporates a games area with table tennis and football, a messy play zone, a café and a party zone offering a dedicated area for children's parties.
And visitors clearly love what they see, with numerous comments being received, such as: 'OMG loved this place…I took my two sons aged 2 and 6 and they did not stop to think…I was on every single ride and inside the soft play! We got there at 12 and left at 6pm (Saturday). The staff were friendly and helped…the place was super clean…and all through the day people were cleaning, and making sure everything was fine. The food and drinks were priced well and tasted amazing…although I thought it was a bit expensive…it was worth every single penny… I definitely would recommend making a day of it!! And it's amazing for parents to join in too. I never leave reviews ever!!! But I had to for 360!! Thank you' Equally impressed was Rushmoor Deputy Mayor Councillor Steve Masterson who officiated at the opening and commented: "It was a pleasure to be able to attend the Golden Ticket launch and to officially open 360. I thought that 360 provided old fashioned fun and play for all ages in a modern setting. The pleasure that children were having was really obvious and the staff were keen to make sure that customers of all ages would have an unforgettable experience. I wish the staff and customers well for the future." Shopping centre owners St. Modwen are also pleased to welcome 360 Play to Farnborough, the company's Alastair Budd commenting: "The opening of 360 Play is great news as it is such a terrific addition to The Meads. We have been putting together a rounded town centre offer in Farnborough with a strong line-up of shops, convenience stores, coffee bars, dining and leisure. 360 Play will add a new dimension to this and bring something really different to attract a family audience."
Full details on 360 Play can be found at www.360play.co.uk